Dolphin Integration's EDA activities started in the late 1980's. At this time, our design activities were targeting mixed-signal ASICs, but there was no mixed-signal simulator available on the market. Our R&D team then developed SMASH the first mixed-signal single kernel simulation engine. SMASH is now coupled with its own schematic entry SLED.
Today, Dolphin Integration's EDA Solutions can be used as:
The front-end design solution of choice, for any custom design flow, coupled with third-party back-end solutions. Such a setup is ideal for small to medium size companies who target using affordable state-of-the-art design solutions with no compromises on performances or innovation.
Point-products to complement existing design flows as Missing EDA Links for specific needs. Such an approach is ideal for companies with corporate agreements for full CAD flows from major vendors who wish to benefit from the innovations of our EDA solutions.
Catalog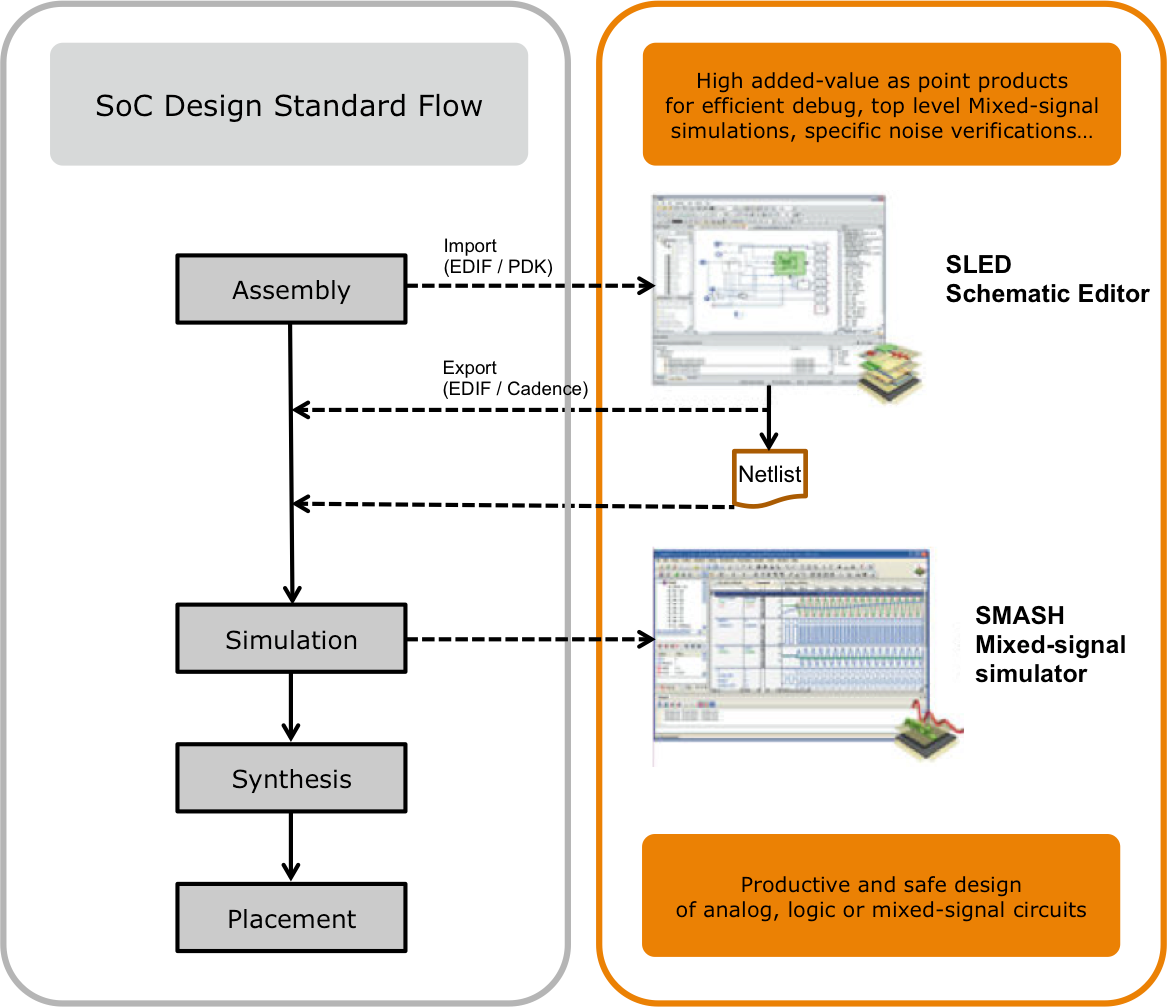 Dolphin Integration's EDA Solutions provide a hierarchical schematic editor - SLED -, that perfectly complements SMASH mixed-signal simulator.
SLASH, the bundling of the schematic editor SLED with the mixed-signal simulator SMASH, provides the perfect front-end solution for designing logic and mixed-signal Silicon IP, as well as for integrating Systems-on-Chips. As a point product, SLASH brings added value to standard design flows and empowers EDA flows. It delivers innovative features which enable efficient detection of logic and mixed-signal flaws, easing debug while tuning the speed versus accuracy trade-off.
Model library EMBLEM, Case-study Technical Packages and free tutorials are available with these EDA Solutions to ease the acquaintance with multi-level modeling.
Dolphin Integration also provides a wide collection of low-power Silicon IPs (libraries of standard cells and memories, audio and measurement converters, power regulators...) all based on SLASH. Such block-busting EDA Solutions deliver the required flexibility in terms of multi-domain and multi-level modeling, up to the simulation of Virtual Application Boards (VAB) overcoming the boundaries of IC and PCB, to optimize complete subsystem performances.
Downloads
Discovery options are available for download in order to freely discover the uniqueness of our EDA Solutions through various tutorials and concrete examples. Learn more...